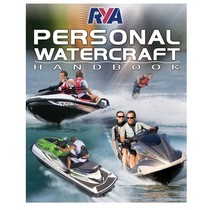 New - Personal Watercraft Handbook
The new Personal Watercraft Handbook brings the PW course support material closer in line with the other Power schemes in terms of style and syllabi layout. The Personal Watercraft Proficiency course certificate will shortly be moving to online registration, when this happens the certificates will be sold in individual certificate packs (a cert and a PW Handbook), just like the Powerboat Level 2 and Start Powerboating.
You'll note that both syllabi in the PW scheme are included – the RYA Personal Watercraft Proficiency (PWP) is at the front, and the RYA Introduction to Personal Watercraft Safety course syllabus is located towards the back. For the time being, the Introduction to PW Safety remains a course taught and certificated on board Super Yachts RTCs.
The layout of the syllabi provides more detail to you (our instructors) in ascertaining the depth to teach each subject. Man overboard has been added to the PW Handling section of the PWP syllabus and should be taught using the same drive up into wind method as MOB in the powerboat scheme; this is detailed on page 36. NB. We are aware that there is a mistake on the graphic (showing a tide arrow, which will be removed on the next print run), tide is not mentioned in the text in relation to man overboard. During instructor courses, it may be useful to try the drift down method, although the success of this is very much based on the profile of the craft and is not as predictable or reliable as the drive-up method. 
If you have any questions regarding the above then please contact us as we will be delighted to help.
I hope the season is busy and sunny
Rachel Andrews
Chief Instructor, Motor Cruising & Power
RYA Training Department